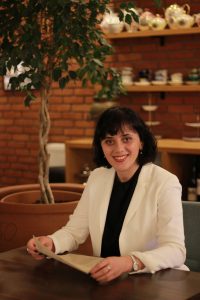 Nestan Mermanishvili has been working at the social-economic development sector for more than a decade. She has been mostly working in the programs that are oriented on the rural economy development. Nestan holds the position of intervention manager at rural small and medium scale enterprises development program that has been running by the consortium of Swisscontact Mercy Corps and Springfield Centre funded by the SDC aiming to support SMEs in business performance improvement through the better access to finances and business support services.  
Since 2019, for three years, Nestan worked at the USDA (United States Department of Agriculture) funded project Safety and Quality Investment in Livestock, Georgia (SQIL) that has been running by Land O'Lakes Venture 37 in partnership with Georgian Farmers' Association since 2018. As a development specialist in the dairy and beef farming industry development process in Georgia, she was in charge of empowering industry associations and lobbying, through the institutional development, for local food producers' interests.
Previously Nestan worked on a project funded by the SDC (Swiss Development and Cooperation Agency in Georgia) which strove for rural economic conditions improvement through market system development (MSD) approach. She was in charge of disseminating information to farmers through regional media capacity building and institutional development. Within the framework of the project, she supported founding of Association of Georgian Agricultural Journalists – the first agricultural journalists' association in Georgia. Six months after the founding the association became a member of the International Federation of Agricultural Journalists.
Before, Nestan was working at the local non-governmental sector for the implementation of rehabilitation programs. She coordinated therapy programs at Women' Penitentiary with the support of Global Initiative on Psychiatry – Tbilisi funded by the European Union.
Nestan graduated from Shota Rustaveli Theatre and Film Georgia State University in 2006 with a bachelor degree majoring in Business Management. In 2010, she graduated from Shota Rustaveli Theatre and Film Georgia State University with a master's degree in Humanitarian Sciences.
In 2021 Nestan graduated from the Geneva Graduate Institute at the Developing Practices and Policies program. Topic of the thesis is the implementation of livestock farming sector development policy by an effective institutional approach.
Nestan's interests lie in domains of local agriculture and economy development, introduction of local food industry to international audience and focus on unique local products. With farmers' mentality changing and the acceptance of the market oriented system, it is very important to be a player/influencer in this transition period.